'Time to see the world through young people'
15 Nov 2012
On Sunday 11th November 2012, the Mo Ibrahim Foundation hosted the 2012 Ibrahim Forum in Dakar, Senegal, focusing on how to allow and empower Africa's youth to gain economic autonomy, to acquire social and political responsibility and to share ownership of their continent's future.
The discussion was broken down into three core themes – employment, education and civic participation – which were discussed by a diversity of high-level panel members from the private sector, civil society and previous government actors; and covered key factors that pose a challenge to the economic and social development of Africa's youth population:


• A booming youth demographic that is set to increase throughout the 21st century, creating huge demand for new jobs: 100 million new jobs needed per month
• Lack of meaningful and challenging job opportunities resulting in the 'brain drain' of young African graduates to overseas diaspora communities
• Outdated, irrelevant and overly theoretical education system that neither stimulate active participation in society, nor provide adequate tools or skills to make the jump from the classroom to the workplace
• Barriers to the participation of young people in decision-making at all levels, resulting in policy and practice that is not fit for purpose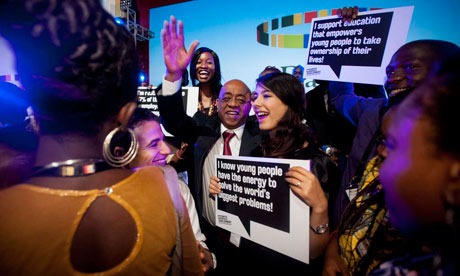 Restless Development brought the voices of African youth to the Forum.
We took
a diverse Youth Delegation
of 25 young people from across the continent to participate, and gathered input from African young people via Facebook and the online livestream to ensure that their perspectives and realities fed into this high-level discussion space.
During the Forum the Youth Delegation fed-in to the discussion in the following ways:
• Questions asked and youth-led solutions offered to panellists during the main discussions
• Informal networking opportunities between youth delegates and high-level participants
• Making use of accompanying media opportunities to target decision-makers
• Generating external youth input online via social networks on the day - #MIFdakar

What we can take away from this experience:

• New tools and learning on ways we can better support diverse young people at future high-level platforms.
• A much more coherent understanding of the policy context in employment, livelihoods and education in Africa, helping us to define our future advocacy in this area.
• The beginnings of a cohesive, skilled and active network of young people across Africa who are committed to both sharing best practise on addressing youth employment issues, and to creating a united youth voice to improve decision-making on youth employment.

Youth Perspectives on employment, development and the future:
To read about the perspectives that our youth delegates shared at the Forum, take a look at
this article
published by Guardian Global Development profiling 8 of the youth delegate's team. And to find out more, you can also meet the whole delegation
here
.
Twitter Highlights from the Forum:
Mo Ibrahim Fdn ‏@Mo_IbrahimFdn
Joy Phumaphi: "Young people have to show us they way, they know where we need to go." Watch #MIFDakar live: http://moibrahim.org
Dr Jackie Chimhanzi ‏@jchimhanzi
Dr Jackie Chimhanzi ‏@jchimhanzi
Mo Ibrahim Fdn ‏@Mo_IbrahimFdn
Restless Development ‏@RestlessDev
@VictoriaFors:"Young people can be restless but they have solutions that can address the biggest problems that we have heard 2day"#MIFDakar